November 10, 2023 at 9:35 a.m.
CENTERING ON HELP
Catholic leaders and volunteers brainstorm ways to help if the Burdett Birth Center closes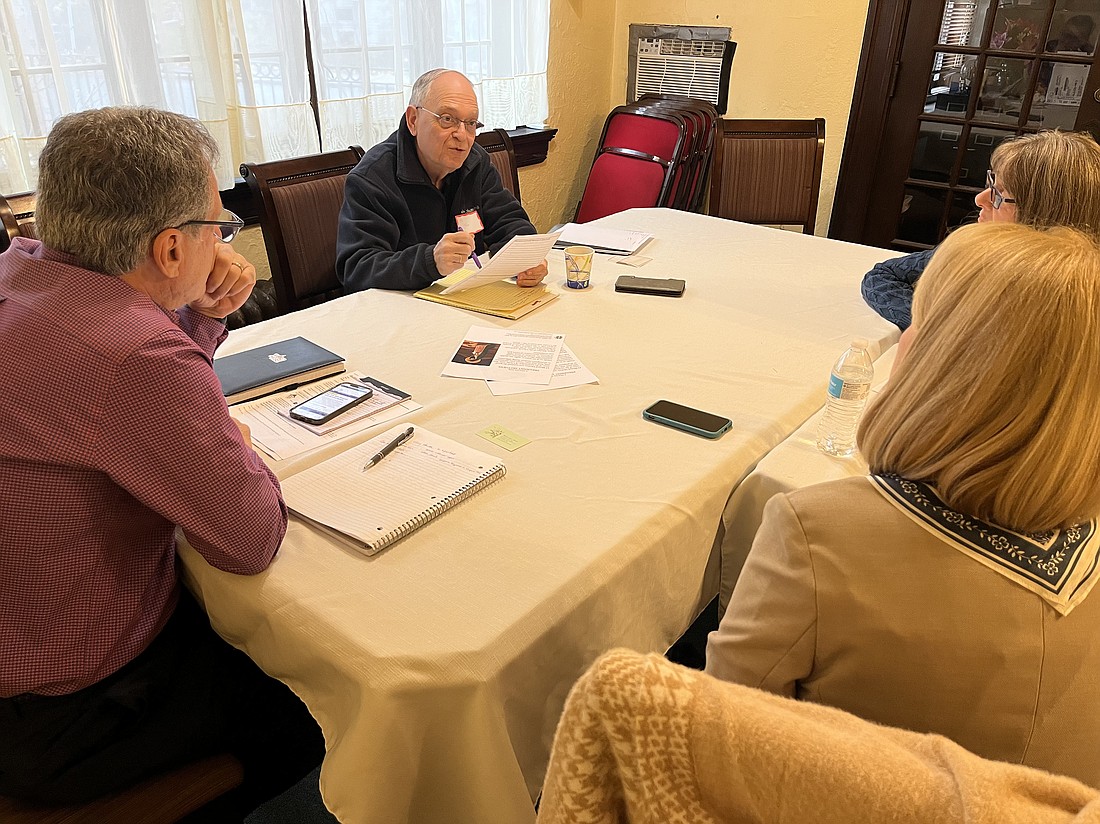 ---
On Nov. 9, the Catholic community gathered together to discuss filling a need brought on by the potential closing of the Burdett Birth Center in Troy. 
The Burdett Center — located inside Troy's Samaritan Hospital — is Rensselaer County's only maternity ward. Plans for its closure were first announced in June but were met with community backlash, particularly from Troy residents and birth workers who said closing the center would impact many low-income women and families who utilize the center and women who prefer its model of midwife care.
The center is still set to close by spring of next year. St. Peter's Health Partners, which owns the center, said the Burdett Center costs around $2.3 million annually to run.
The meeting, held in the rectory of Sacred Heart Church in Troy, was organized by Kathryn Barrans, communications director of the Albany Diocese, and Bishop Edward B. Scharfenberger. Barrans said that even if they can't fix the issue, she hopes the Catholic community can step up and offer ways to help.
"Our goal today is to share ideas, to listen to each other and build on each other," Barrans said at the start of the meeting. "A friend said to me we have a lot of smart and compassionate people in this Diocese, bringing them together to brainstorm would be a good idea. And that's what we're doing today."
The 11-person group followed a Synod Session model of meeting: splitting into two smaller groups to answer questions before discussing their findings. The groups discussed what are the unmet needs if the center were to close, what resources currently exist in the church, and what other steps could the church take to help. 
Attendees expressed concern with a lack of transportation to maternity centers in Albany from Rensselaer County, how the longer drives to appointments might make it harder for mothers to fit into their schedules, and anxiety from going to an unfamiliar location. 
For solutions, groups discussed the logistics of starting a transportation ministry to help mothers get to appointments, working with local counseling centers to offer support, and trying to get the word out about parishes with supportive programs for pregnant mothers.
The goal of the meeting was not to force St. Peter's to keep Burdett open, Barrans added, but instead hoped to focus on how churches, parishioners or locals could help those impacted by the center's closure. 
Gary Riggi, deacon at Our Lady of the Valley in Middleburgh and director of engagement services at City Mission of Schenectady, said the center's closure has been weighing on his heart. 
"We see this all too often," Riggi said. The City Mission's Transitional Housing and Wellness Center, which Riggi helps oversee, takes in guests from across the Capital District who have to travel for extra help.
"The Wellness Center is now seeing every county in the Diocese; we have people coming in from Schoharie," Riggi said. "So this is really (weighing) on my heart. Finding a way to not only pick up the slack, but one of the things we worked on not that long ago was there are multiple resources out there. To be able to create a new space, and I think doing that and having it be rooted in our faith, I think it brings healing. I've seen it."
Other attendees included Father Tom Morrette, pastor of Our Lady of Victory and Christ Sun of Justice in Troy, and Our Lady of the Snow in Grafton; Mary Fay, associate director for Marriage and Family Ministries, Pastoral Care and Respect Life; Alfred Censullo, deacon at St. John/St. Joseph's in Rensselaer; and pro-life volunteers, previous nurse practitioners, previous Alight Pregnancy Center staff, and parishioners hoping to get more involved.
The Albany Diocese has been following the center's potential closure since its announcement. In July, Bishop Scharfenberger released a statement saying closing the center could have a "chilling impact" on moms and babies.
On Sept. 18, the Bishop submitted a written statement for the record as part of a hearing for the center's potential closure organized by New York Attorney General Tish James at Russell Sage College.
"If money can be found to keep Burdett operating, great. If not, let's work together to find solutions," Bishop Scharfenberger said. "This hearing will hopefully shed light on specific needs. Let's take that information and, instead of fighting each other for what we want, let's also listen to each other, and work together to find solutions that can work for all."
Added Riggi: "I think there's something greater out there, we just have to be foolish enough to say we'll make it happen."
---