May 24, 2023 at 10:51 a.m.
---
La Salle Institute honored its graduating class of 2023 — its first coed graduating class — with a formal commencement ceremony on May 20 on the school's athletic field. Honoring tradition, La Salle's commencement is the first Capital Region high school graduation of the season. The ceremony featured Major General Mark O'Neil ('82) as guest speaker.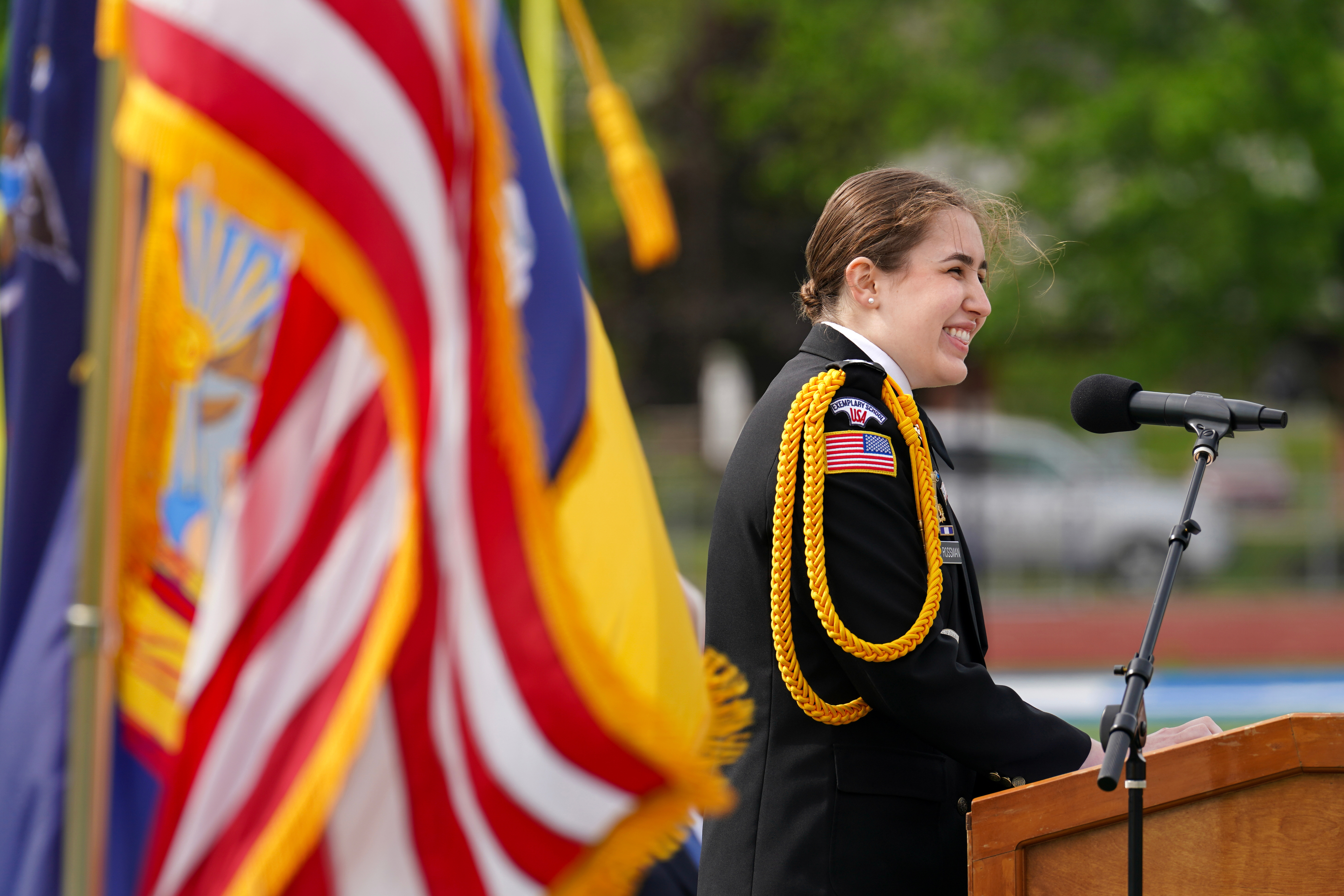 Valedictorian Abbigale Rossman delivers her address. (Cindy Schultz photos for The Evangelist)
"To say I am proud of this group would be an understatement; it has been my privilege and pleasure to watch them develop into young men and women of exceptional character," said La Salle Institute President and Head of School Joseph Raczkowski ('72). "Their journey was indeed historic and they rose to the occasion as they united and provided leadership for our school. They formed friendships that will last a lifetime, and I thank them for opening this new chapter in our school's history with such dignity and pride. They will attend college this fall at the United States Air Force Academy, University of Notre Dame, Cornell University, RPI, Villanova, Siena, Texas A&M and many other great colleges and universities."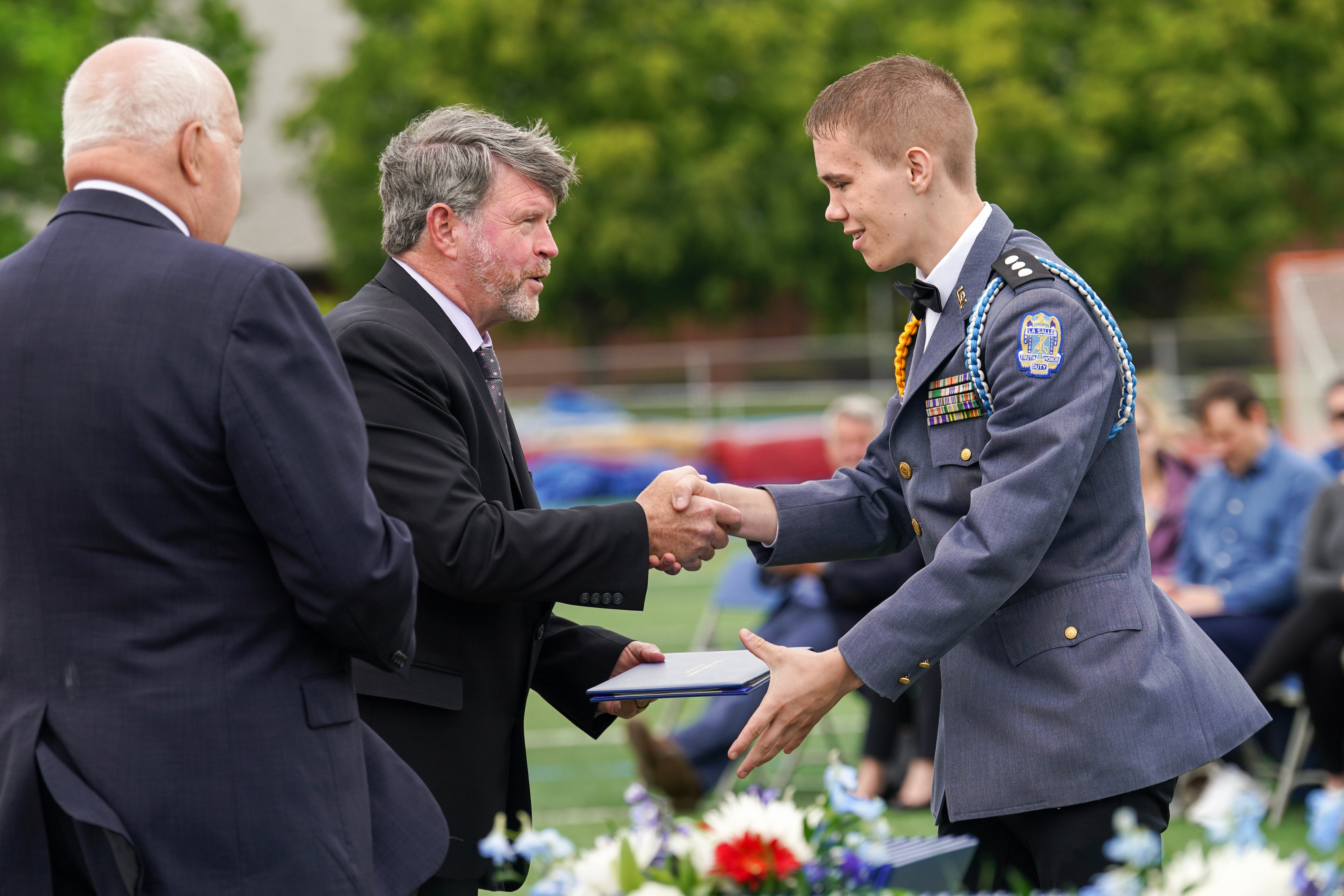 Graduate Daniel Butler receives his diploma from alumnus Gen. Mark O'Neil, who delivered the commencement address.
Members of the class of 2023 received 377 offers of admission to 185 colleges and universities in 28 states and the District of Columbia and earned a record-breaking $20 million in scholarships.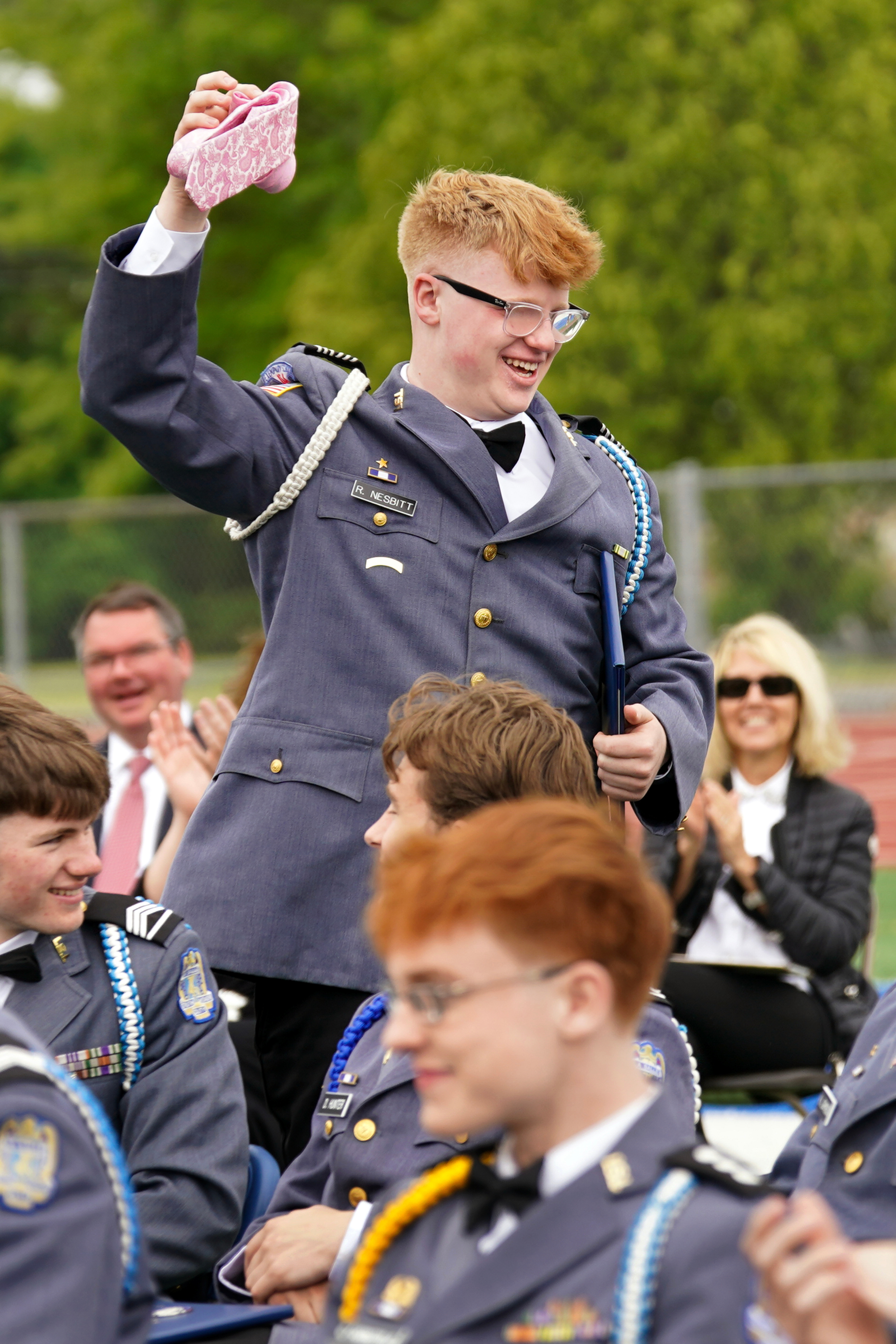 Graduate Reilly Nesbitt holds up his"graduation trophy" during the commencement exercises. Nesbitt had long admired principal Steven Sgambelluri's pink tie and it was promised to him once he graduated.
"I am honored, humbled and proud to be a member of the first coed graduating class at La Salle Institute," said valedictorian Abbigale Rossman, who will attend Notre Dame in the fall. "I felt welcomed at La Salle right from the start. I was exposed to new opportunities that changed my outlook and made me want to serve not only my community but my country in some meaningful way."
Valedictorian Abbigale Rossman (l.) and co-salutatorians, Clotilde Mussett and Andrew Lee, stand for recognition during commencement exercises.
---