November 15, 2023 at 8:58 a.m.
'ALTO' THIS WORLD!
Cathedral Choir School lifts the voices of adults and children with inspiring performances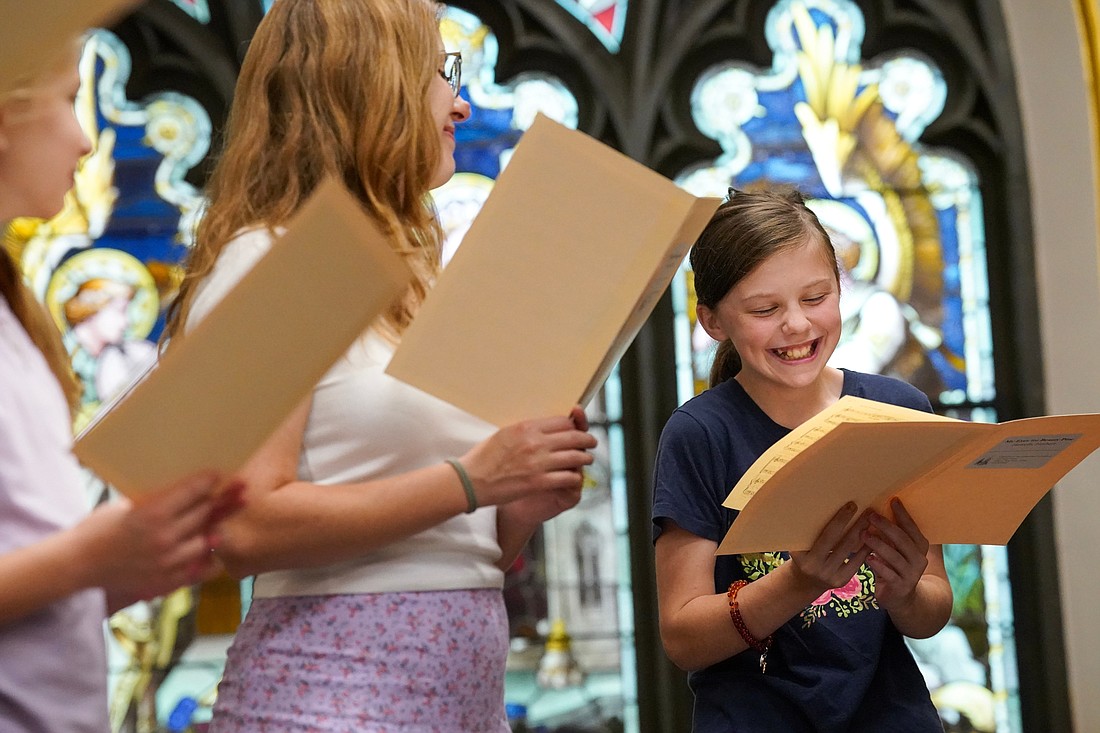 ---
It starts like so many practices do: quick body stretches. 
The row of singers stands in a semicircle as they reach their arms across their rib cages. They shake out their legs and multitask while catching up with their neighbors. "How was your summer? What are you doing this weekend?" Some adjust their song sheets, others roll out some neck circles to get their bodies loose.
Dr. Timothy Reno, director of music and choirmaster for the Cathedral of the Immaculate Conception in Albany, stands at the front of the group and helps them through some vocal warmups. The choir hums up and down major scales, and moves into "eee" and "ohhhh" sounds that gradually glide through notes in a two-octave range.
Then, the fun begins. The group dives into their first song of the year. It's early September and the first practice back from a summer off. Even still, the choir takes no time getting into rhythm. In fact, there's little easing in at all. It's as if a light switch was turned on, and what was once an empty church — the group practices in the altar space of the Cathedral — is elevated into something ethereal.
It's breathtaking, the choir, filling the space with a sound like morning light. Reno swiftly glides his hands through the air, advising his students through whimsical motions while listening as their voices slide up and down scales. His movements are effortless, as if he himself was pulling the notes from his singers and twisting them into a song in midair.
When the group falls quiet, Reno smiles. "I've missed this sound all summer," he says. 
And perhaps for this 15-person choir, the sound is nothing beyond regular practice. But for anybody else, it's pretty incredible. From semi-retired parents to recent college graduates, the group is a smattering of musically inclined locals — some Catholic, some not — drawn together not only by their love for music but their qualifications for singing.
It's fitting enough that the Cathedral — known as the motherhouse of worship for Catholics in the Albany Diocese — would also be a hub for sacred music. On top of the adult choir, the Cathedral offers a range of children's ensembles, from infant to middle school, as part of their Cathedral Choir School. 
"It's tremendously fun," said Reno. "(The choir) loves old music, they love new music, they love trying new things."
Cathedral Adult Choir
The adult choir for Immaculate Conception Cathedral in Albany, NY practices at their weekly rehearsal on September 21, 2023. The group sings a clip of "O Sing Joyfully" by Adrien Batten.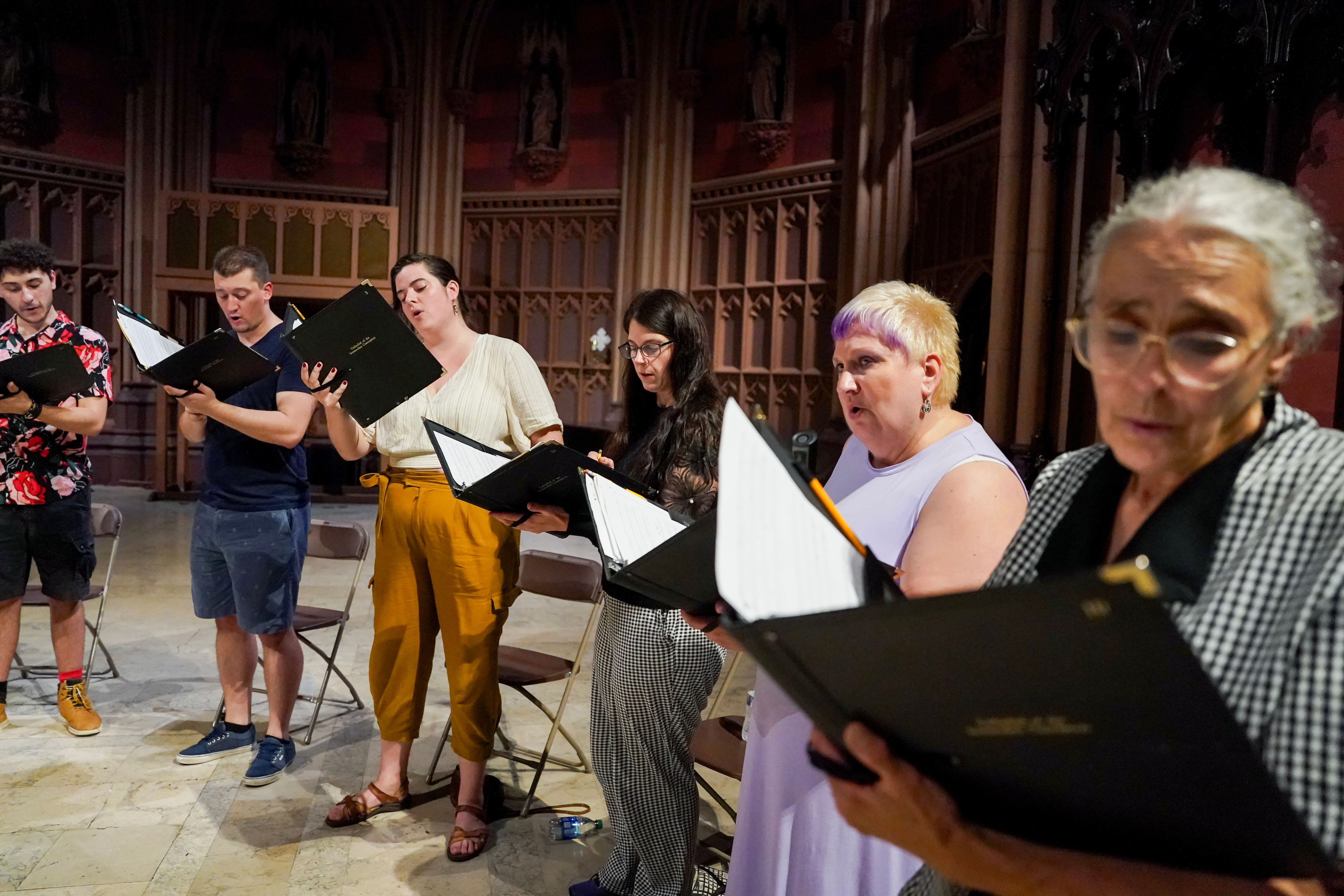 The adult choir practicing at the Immaculate Conception Cathedral. View the full photo gallery here. (Cindy Shultz photos)
A SCHOOL OF MUSIC
Upstairs, on the second floor of the Cathedral — before the adult choir practice kicks off at 7:30 p.m. on Thursdays — a cluster of giggles can be heard from the "Trebles" choir practice. Open to boys and girls in 4th-to-8th grade, Reno leads the group of kids with help from Anna Benninger, also director of the "Troubadours" training choir (K-to-3rd grade) and a soprano in the adult choir. 
The last children's ensemble in the Choir School, "Haydn Seek," began this year as a birth through Pre-K musical program. The course offers an interactive musical experience for caregivers and their children, offered by Reno's wife, Andrea.
For the Trebles, practice begins just like the adults with some breathing exercises and scales. And while the kids are attentive for the practice, it can't be helped but be interrupted by fits of giggles or jokes from Reno. "Why do you make a face like this when singing 'Fa'?" he asks, demonstrating with a funny face. "Because nobody likes it!"
The group works through a cluster of Mass hymns, like "Lamb of God" and "Glory to God in the Highest." Afterward, Benninger helps students with any questions they have on their workbooks, which focus on music theory and practice exercises. 
"We would look over music theory books and correct them, and meet with them individually to help with what needed work," she said. Saving the booklets for after singing practice helped make "going over work different than the rehearsal time."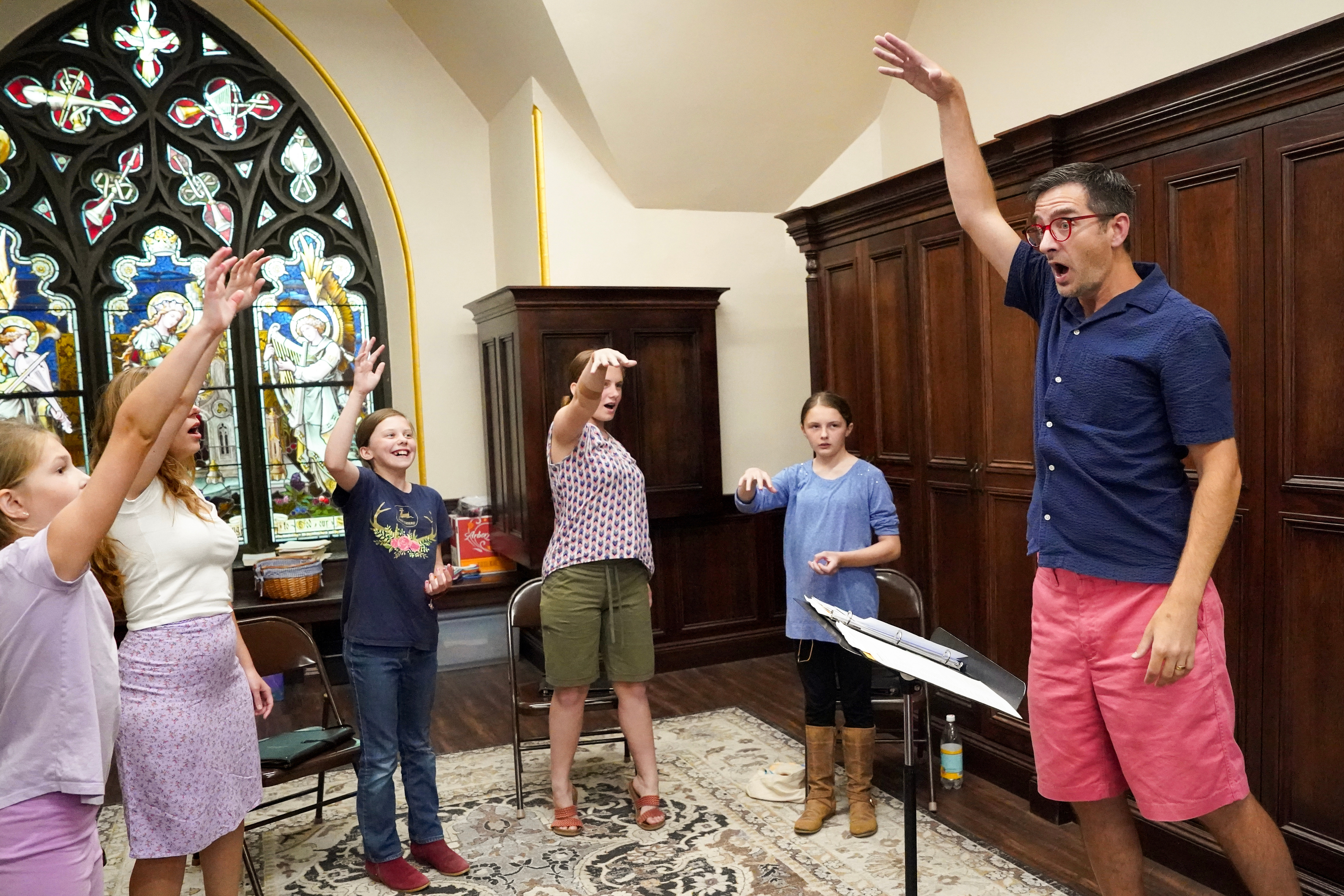 Dr. Timothy Reno warms up with the Cathedral's Treble choir. 
Brian Gurley, former director of music for the Cathedral, remembers being told at his time of hire in 2013 that a goal for the position was to create a youth program for kids. Gurley connected with the Royal School of Church Music America (RSCM), which provides a structural training guide to parish staff and choristers, that helped lay the groundwork for the school's musical training and teaching.
"We called it a choir school to differentiate it, because there's an on-going, continual training (element)," said Gurley, who served as director of music until 2021 and is now director of music and organist for St. Paul Cathedral Parish in Pittsburgh. 
A part of the inspiration for the program was a feeling of responsibility by the church, Gurley added, especially after the Second Vatican Council. In 1963, Pope Paul VI's, "Sacrosanctum Concilium," the Latin title for the "Constitution on the Sacred Liturgy," had addressed — for one of the first times — the importance of sacred music and musical tradition in the church, calling it a "treasure of inestimable value," which "forms a necessary or integral part of the solemn liturgy." 
"There's a responsibility to teach music to children as part of liturgy formation," Gurley said. 
The Troubadours and Trebles now rehearse weekly. The Trebles also perform once a month at the Cathedral's 5 p.m. Mass, and sing with the adult choir for special services, such as Lessons and Carols, Chrism Mass and Diaconal Ordination. 
A SACRED SOUND
In addition to honing in on a children's choir, Gurley wanted to solidify the adults as well.
"When I got there, the (adult) choir was interested in good music, interested in hard work, and they knew the Cathedral had some sort of responsibility to exemplify beautiful music, but it wasn't always consistent," Gurley said. "There were some dedicated volunteers but even they couldn't always commit to the schedule because it's a very demanding schedule. It's probably one of the most demanding liturgical ministries by far in terms of time commitment, but also (requires) a serious music skillset that people have to have."
The adult choir sings weekly at the 11 a.m. Sunday Mass from the beginning of September through the Solemnity of the Most Holy Body and Blood of Christ at the end of May, as well as major holidays like Christmas, Holy Week and other liturgical observances throughout the year. It also includes a range of choral music from all periods of church tradition, from Gregorian chant through the 21st century. 
"It's a time machine, and it's the only one that works," said William Helmer, choir tenor. "Mass at the Cathedral shows how you can unite the old with the new in a really neat way."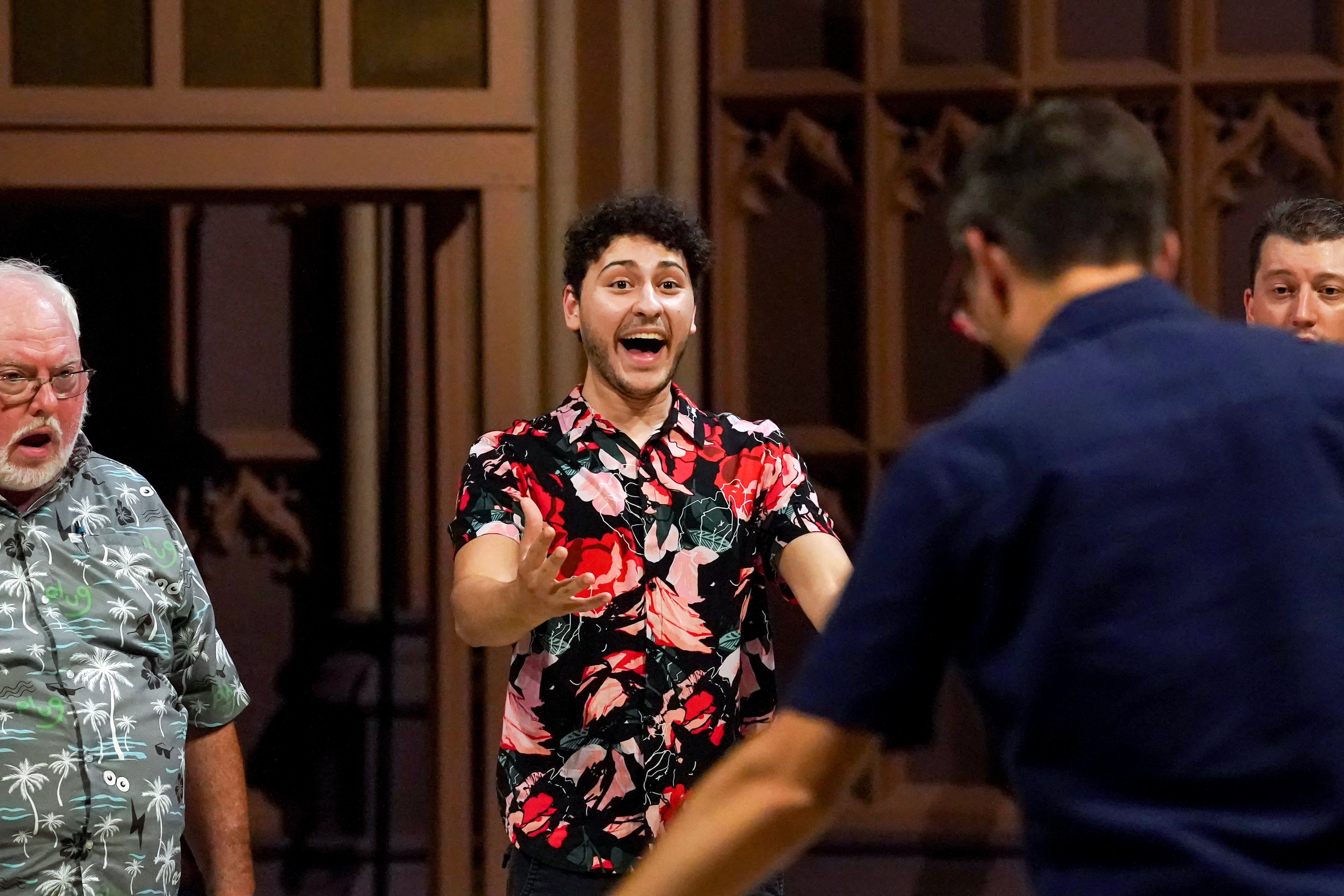 Will Helmer (far left), tenor, and Devin Canavally, bass, sing at their weekly choir practice. 
While the workload isn't light, Gurley thought the choir had "a real opportunity there to lead the people and inspire them to pray."
Around 2014, the Cathedral started offering stipends to leaders of each choir's sections (soprano, alto, tenor and bass.) On top of this, a structured roster and practicing different or more difficult pieces helped sharpen the group's repertoire. The result was something that was "consistently inspiring," Gurley said.
It stopped being "fleeting experiences where every couple months you would have the choir there and everybody would be on their A-game, it was more frequent," he said. "Not only for the choir, but then also for the parish."
Reno, who serves as associate dean of Liberal Arts for Siena College, heard of the choir through the grapevine of fellow local musicians after moving to Albany in 2011. Jacob James, tenor and section leader, joined the group in 2013 on the advice of his professor at Schenectady County Community College where he obtained his bachelor's in music.
And once they found each other, and their sound, there was all the more reason to stay.
"The community is really what's developed with everybody there," James said. "Everybody really enjoys each other's company. It's good staying power to have people you actually enjoy singing with."
Helmer joined the choir around 2008. From a musical family, his daughter, Liz, followed her dad's footsteps and now sings alongside her father as an alto. Aside from the choir, Helmer broadcasts the "Voices of Catholic Radio Hour" on 88.3 FM The Saint.
"The coolest thing about being in the choir is it's one instrument," he said. "It's one thing. It's like a machine that produces beauty. We'll play a chord, and you wonder, 'Which note is mine in that chord?' You kind of get the hang of it."
"It feels like a family," Benninger said. "We see each other so often and we work on music you have to have a commitment to, and it's nice to be with a group who feels the same way. To be working toward something that enhances the beauty of the service."
"Choirs are one of the most important images we have of heaven," Gurley said. "I think a choir … is either total or it's not. I use that analogy to say that the choir is only the choir when everybody is there and you're working toward everybody contributing their best. Then you get something that's greater than the sum of the parts."
---