November 7, 2023 at 2:44 p.m.
AN 'AMAZING' JOURNEY
Pastoral year prepares Deacon Daniel Vallejo for his upcoming Ordination to the Priesthood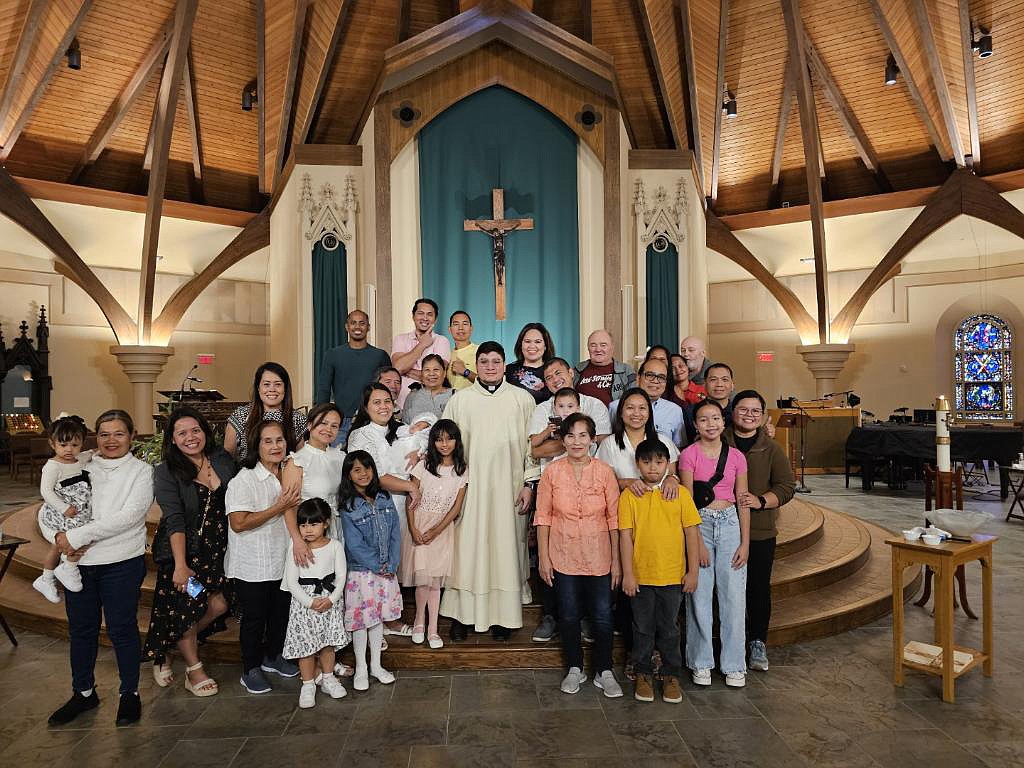 ---
One of the many highlights for Deacon Daniel Vallejo during his pastoral year in the Diocese of Albany was when he had the chance to celebrate a bilingual marriage.
The marriage happened at Christ the King in Albany with Vallejo, who was born in Colombia, assisting Father Matthew Duclos, pastoral vicar.
"That was amazing because I had the chance to do the marriage and the vows and Father Matthew Duclos did the priestly parts of the Mass," Vallejo said. "That was a plus to my vocation … It is sometimes difficult because I have been here so many years just speaking English. The switch is never easy."
Vallejo, who will be ordained to the priesthood on Nov. 18 at the Cathedral of the Immaculate Conception in Albany, then shared a lighthearted story illustrating how difficult going from English to Spanish and back can be at times even for a native speaker.
"One funny thing, a couple of months ago, we had the usual Saturday Mass at St. Thomas in Delmar and during Intentions for the Universal Prayer they have all these Polish last names and then they had two Spanish last names and I made a mistake on the Spanish one," he said. "That was a good moment for me to remember that my first language is Spanish."
Whether speaking English or Spanish, this pastoral year has been a blessing for Vallejo, who was ordained a transitional deacon for the Diocese of Albany last May. He has ministered at five different parishes while finishing his last year of seminary at Mundelein Seminary online. He started at the Church of the Holy Spirit in East Greenbush under Father Quy Vo, pastor, and then was transferred to the Capital Region Network, which consists of Christ the King, St. Thomas in Delmar, St. Matthew's in Voor­hees­ville and St. Lucy's in Altamont. These four parishes are led by Father Richard Lesser, pastor. Vallejo has done baptisms, marriages and Communion, while also teaching Spanish at St. Thomas School. From Father Vo, he learned the necessary organizational skills; from Father Lesser, the ability to pastor to four unique parishes.
"With Father Quy Vo, it is absolutely liturgy and organization, being organized. He prepares very well. He taught me a lot because at the seminary you just assume that you have to do the sacraments," said Vallejo, who was talking to The Evangelist as he was on his way to his canonical retreat at Mount Saviour Monastery in Pine City. 
"With Father Lesser, with his pure pastoral heart, (it is) being a pastor between four parishes that are completely different and being able to modify what you have to say for each particular community. Being able to serve between differences and at the same time keep the four parishes as a network. The four parishes are together but understanding that each one of them has their particular things that make them different."
Vallejo — who also credited watching Father Charles Onye­neke minister to people, saying "it was good for me to look at him as an example of an international guy working here in the Diocese" — added the pastoral year brings the reality of the priesthood into full focus
"When you are at the seminary, you have these expectations about how this is going to be in the real world as a priest? These weddings. These baptisms. These hospital calls. These administrative things that happen in the parish. You have these expectations about how everything is going to be," he said. "When you are a transitional deacon and you are at the parish, you realize the reality of how challenging it is to be a priest in these times.
"The discernment, in my view, is harder when you aren't in the parish yet. Of course, the first semester was hard for me because I was taking class plus doing parish work. But the second semester after May, the summer, the couple of months after summer, I had the challenge to be fully immersed in the life of four parishes and the feeling is completely different. You understand your call in the middle of the challenge (of being a) priest."
Now with his pastoral year winding down, what is Vallejo looking forward to most during his ordination.
"Father Anthony Ligato (former diocesan vocations director) is coming from Rome to vest me as a priest and it will be nice to see him with my sister bringing the vestments and with him to be the one vesting me, " Vallejo said. "That will be a special moment because Father Ligato means a lot to me. … I was so grateful to have him as vocational director."
---