August 24, 2023 at 9:20 a.m.
Leap across the threshold in your life
Our greatest strength comes when we view ourselves and others through the lens of compassion, gentleness and love.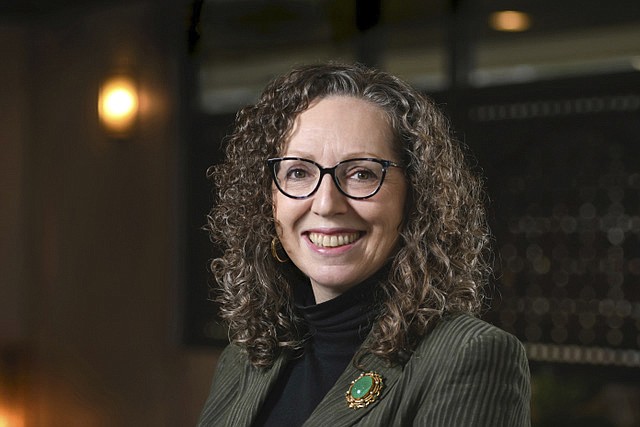 ---
The poet David Whyte says that most people are "living four or five years behind the curve of their own transformation," refusing to accept a new season of life or a change that is occurring within or before them. But change comes with or without our approval and acceptance. We can either jump into the fray or, as Whyte says, end up as "collateral damage" in our own lives.
Thomas Merton puts it in another way: "Yet the fact remains that we are invited to forget ourselves on purpose, cast our awful solemnity to the winds and join in the general dance."
We can all look out at our lives and see a threshold of some sort ahead, something we will be required to cross. We can either dance across it with curiosity and hope or be dragged across kicking and screaming.
I remember when my youngest child was born, only two months before I turned 43. I marveled that when Chiara was leaving for college, I'd be closing in on 61. It seemed so far away at the time, and yet here we are. She leaves in two days. Our nest will be empty, with all three of our babies having flown the coop. It is a monumental threshold, a curve of transformation we've seen coming for some time, a season that will transform me and my husband, Dennis, as parents, as a couple, as individuals.
Our dining room is piled high with dorm supplies as we make the final preparations for Chiara's giant leap across her own threshold, knowing that anything we are facing with this coming change pales in comparison to what she is facing as a newly minted adult preparing to test out her wings. And maybe that is a key in facing up to change in life as it comes, remembering that we are not unique and often there are others around us who are facing even bigger thresholds. As always, our greatest strength comes when we view ourselves and others through the lens of compassion, gentleness and love.
As our daughter prepares to leave, we tell her we are confident she is going to be amazing at her new life in New York City, and at the same time we remind her that we are here and if it turns out that this particular choice was not the right one for her, she can come home, regroup, and start again. That is a truth and a grace each of us can remember when we set out on a curve of transformation that may or may not go as planned.
Where are you on the curve of your own transformation? What season of life is approaching? Can you join the cosmic dance with a sense of wonder and hope, even if it's tinged with some fear or doubt?
We live at a time when there seem to be frightening thresholds all around us, not just in our own lives but in our Diocese, in our universal Church, in our country, and in our world. It can be overwhelming to imagine crossing all of them and winding up in some unknown future. The trick is not to try to cross someone else's threshold but to focus on what is ours to do right here and right now. Look out ahead and focus not on the steep cliffs and dark valleys but on the color of the sky at dusk and the sound of bird calls in the morning. Be amazed at what is rather than fearful of what might be.
"… no despair of ours can alter the reality of things, or stain the joy of the cosmic dance which is always there," writes Merton in 'New Seeds of Contemplation.' "Indeed, we are in the midst of it, and it is in the midst of us, for it beats in our very blood, whether we want it to or not."
So dance, run, fly.
Mary DeTurris Poust will be leading the Stillpoint Retreat at Pyramid Life Center on Sept. 8-10. For information, visit www.NotStrictlySpiritual.com/events.
---